The Overview
So I have a good friend who wants to set a record. The record he wants to set is actually the Pacific Crest Trail (PCT), but we've decided to start with the John Muir Trail. We've done the math, done the research, and we think we can do it. We'd be making the attempt (if we win the lottery for it) this summer.
The John Muir Trail (which I've already hiked part of) runs from Mount Whitney, the highest peak in the Lower 48, through the Sierras, including King's Canyon and Sequoia, and into Yosemite. It's actual part of the PCT, so it will be a good test run, no matter what happens.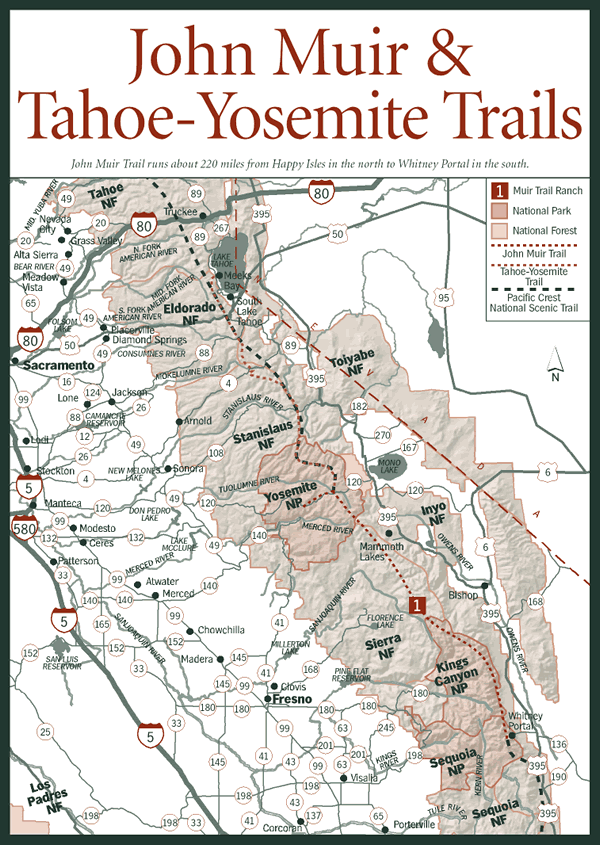 You can find out more about both trails here.
The Hike
This isn't an easy hike. It's 211-ish miles through altitudes as high as 14,505′. And we need to do it in less than 78 hours. This is back country, wilderness .  .  . the trail is clearly marked, but you share it with deer and bears. That sort of place.
It's also a hike through the parts of the country that inspired the national park system. Some of the most beautiful country on the planet. It's a place out of dreams.
The Campaign
We are planning to go all the way with this record attempt. We'll be filming it; Matt's even got a camera drone. We're going on an adventure, and we want you to come along for the ride. We're also planning on grabbing as wide an audience as we can. We're planning on a social media campaign, maybe some crowdfunding, definitely sponsors if we can get some.
The Training
Here's the truth: We should have been training for this all year. Instead we've go six months. I think we can do it, but that means we're going to be training hard. I've been hitting the gym almost daily since the end of January. I'm even doing cardio.
I hate cardio.
But I'm doing cardio, because in six months I'll need pistons for legs and gas tanks where my guts go. I can already keep up the pace we need to keep up easily, I just need to be able to do it with a 50-100 pound pack above the treeline for 70-something hours.
We're also, starting a month before our hike, going to switch to the Uberman sleep schedule.
What You Can Expect
Well, the journey starts here and now, not six months from. We don't know for sure if we'll be able to go, or when, yet, because there's a lottery system for selecting backcountry permits. Still, we need to start training last year, so that's going to be happening. We'll be logging progress, looking at the things we need to do, and so on.
I'll be saving up for a decent pair of boots.
Our thinking is that, worst case, we have to settle for being in awesome shape and walking through one of the most beautiful places on the planet. I think we'll do a bit more than that, though.
More to come,
Connor Rickett